Blade Runner was a slow burn in American cinema. The film didn't necessarily tank at the box office (in fact it still made a tidy profit), but it took some time for it to become one of those underground classics that emerges into the mainstream some number of years later and ends up directly inspiring virtually everything in its genre afterward.
Based on the book by Philip K. Dick entitled Do Androids Dream of Electric Sheep?, the story is great, but not necessarily because it is novel. It boils down to philosophical questions many works brought up before it and will continue to bring up for the rest of human history, namely: what does it mean to be alive?
Outside of its plot and memorable cast of characters, Blade Runner is remembered fondly for its incredible visual imagining of the future. Set in 2019 Los Angeles, one of the reasons director Ridley Scott's vision is so striking even by today's standards is how strategically he introduces the look and feel of the world he's created. L.A.'s inhabitants aren't wearing shiny silver spandex bodysuits. Its law enforcement officers aren't running around with laser swords and space blasters. Deckard, our protagonist, has an apartment filled with familiar household staples like a refrigerator, a kitchen sink, a couch, a shower, a closet. The entire city's architecture has expanded upward, but still has a familiar feel of a hulking concrete and metal jungle, albeit with significantly more neon everywhere.
Perhaps that's as good a place as any to start with Scott's vision of the future. One of the things that stands out about Blade Runner immediately is the influence of the hustle and bustle and bright neon-tinged sights and sounds of downtown Hong Kong. The film was partially filmed in real life Hong Kong and it's clear that one of the subtle commentaries on a futuristic 2019 Los Angeles is that Scott imagined it would be an increasingly globalized city. As Deckard wanders through the streets we regularly see Chinese characters on billboards and neon signs, and Deckard appears to be a regular at a street-side restaurant where in one scene he speaks jovially with the chef while enjoying a satisfyingly steamy bowl of noodles. The people wandering these streets are diverse and their fashions seem to be largely inspired by Chinese culture; conical hats and umbrellas appear often. In one early scene we see a large movie theater with all of its marquee listings in Spanish. Without spoon-feeding the audience that our world would continue to become increasingly diverse, we're given bright clues on our periphery at all times that the big cities of the future will continue to be influenced by America's numerous cultures who live within them.
It's also worth noting that the majority of Blade Runner is veiled in darkness, and often pouring rain. Scott has mentioned in the past that part of that was out of necessity; he was supposedly afraid that the edges of some of the sets might be more visible in daylight. Limitations aside, the largely black backdrop serves the important purposes of making the society feel bleak and dangerous, as well as also hammering home the point that one of the central inspirations for Blade Runner is the old gumshoe detective/film noir story. Deckard's mission is to find and "retire" a number of replicants that are on the loose, but a deeper concern as the film moves forward is solving the mystery of what it means to be human. His journey ends up leading him to more questions than answers and forces him to ask frighteningly existential questions of himself in the process.
One of the more endearing aspects of throwback appeal in Blade Runner is seeing which companies Scott believed would still be powerhouses in 2019. Prominent ads are on display throughout the city for some companies which are still household names (Coca-Cola and Cuisinart, for instance), and many which were big names in the 80s but didn't exactly hold up in the real life future (TDK, Atari, PanAm, etc.). Fun side note: the Denis Villeneuve sequel Blade Runner 2049 would still feature many of these defunct companies in his own cityscapes as an homage to its predecessor.
As aforementioned, the clothing fashions in Blade Runner feel realistic in comparison to other visions of the future in large part because they still have an air of utility and familiarity in respect to the fashions we recognize. There are certainly scenes where characters are more futuristic/steampunk inspired (Pris in her kabuki-inspired makeup and Zhora in her clear vinyl jacket come to mind) but the main characters wear fashions that look similar to things we would recognize with a few alterations. Deckard wears a button-down shirt and tie with khakis, dress shoes and a trench coat for most of the film. Virtually the only thing about him that looks futuristic is the collar and buttons on his coat look a bit strange. Even replicant Rachael wears dresses and coats that look like items you'd see on fashionable passerby in the real life streets of New York or L.A. Her hairstyle may be the only thing about her that seems "futuristic," and even that seems to feel like a natural possibility and less kitschy in comparison, to say, Star Wars' Princess Leia's "cinnamon buns."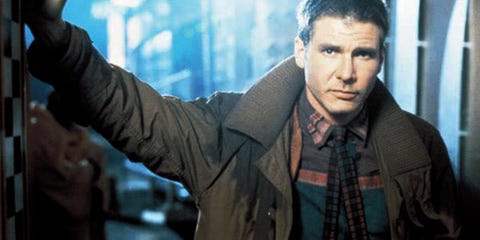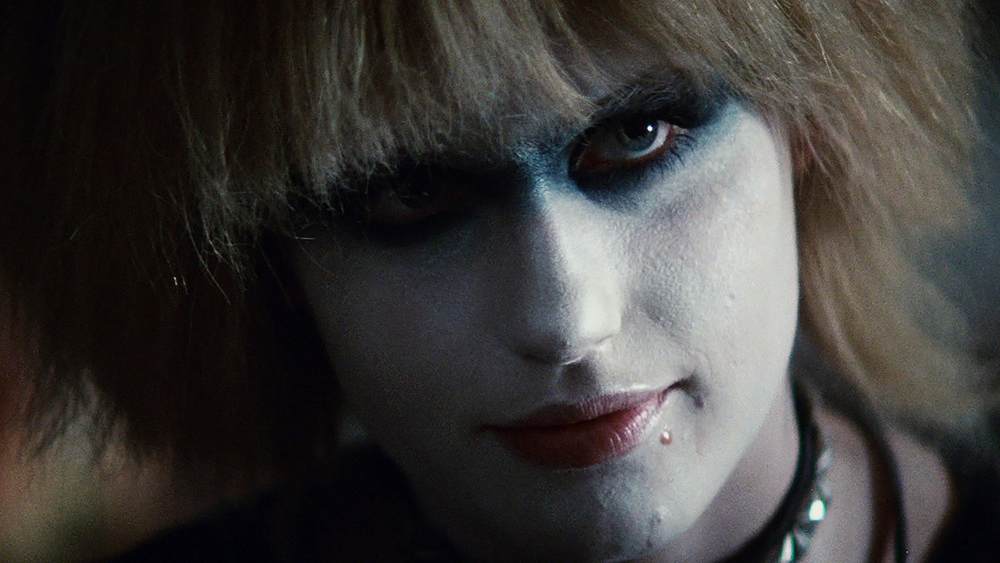 The industrial look of the city makes everything all the more visceral, grimy and realistic. Streets are littered with garbage, sketchy characters lurk in the alleyways, steam pours from the sewer grates and smoke wafts from food carts and restaurants creating a rolling fog that mixes beautifully with the bright lights and dark, foreboding sky. Even when we see a staple of futuristic imagination, the hovercar, it's not a clean ascent from ground to sky; it erupts in another cloud of smoke, perhaps winking at us that future advances aren't going to necessarily be birthed in the squeaky-clean utopia we sometimes imagine, that pollution and smog and the byproducts of innovation may be something humanity refuses or is unable to get away from throughout our generations.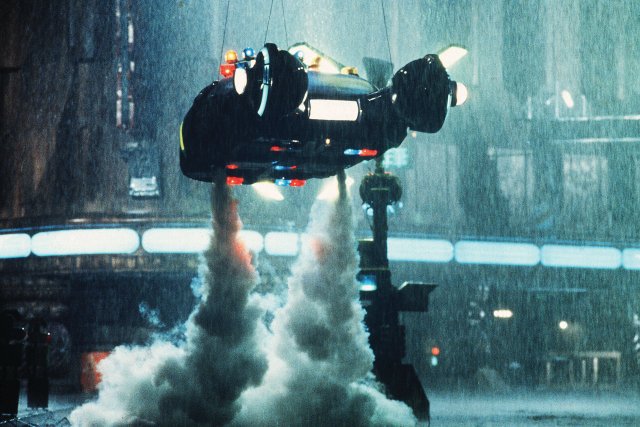 Another interesting stylistic choice is the stark differences in architecture between the government buildings, businesses and homes of wealthy individuals in contrast to the "everyday" structures we see throughout the majority of the movie. Most of the residences, restaurants and bars look pretty similar to places we would recognize personally. The elites however live and work in places that resemble lavish temples from bygone eras. The Tyrell Corporation building looks like something the ancient Mayans or Egyptians would have constructed.
When we see Tyrell's living quarters he is surrounded by candelabras, lying in a bed adorned with elaborate linens and pillows, draped in a pure white robe. He resembles what we imagine a medieval king would look like.
I think the most interesting discussion to be had about this film stems from this aspect. What exactly is the commentary that Scott is making by showcasing the wealthy and elite in the trappings of ancient civilizations while the common people are surrounded by astounding technological advances and somehow seem far lower on the societal totem pole?
Personally I choose to believe that, other than making these places and individuals visually appealing and beautiful in a cinematic sense, it's an allusion to the way our society is run and the way Scott believed it would continue to be run: the folks at the top believe themselves to be kings, if not gods, and the notion of previous civilizations who literally operated under these systems is incredibly appealing to the upper class. Class warfare is possibly a secondary theme in Blade Runner, in comparison to its more centralized themes about humanity and existence, but seeing as how an individual's place in the world inevitably weaves into class and societal standings, it's certainly an important theme regardless.